We live for the legacy! Condragulations to Mama RuPaul, who was inducted into the Realscreen Awards Hall of Fame on Tuesday, January 26, during the first virtual edition of the 2021 Realscreen Awards!
Additionally, RuPaul's Drag Race took home two awards—the Award of Excellence: Competition and Best Competition: Talent & Studio-Based.
In accepting his Hall of Fame award, RuPaul said that this award marked a win for those still looking for their moment to breakthrough. "I'm proud that our little show has brought audiences at home and abroad so much light, laughter and joy, and it's our queens that continue to inspire us with their courage and creativity. I accept this honor on their behalf. And on behalf of all the other baby drag queens that are out there waiting for their moment to shine. Thank you so much."

Since 2009, Ru has executive produced and hosted RuPaul's Drag Race, for which he has received five Primetime Emmy Awards every year from 2016 on. RuPaul's Drag Race holds a Guinness World Records title, achieving the most Emmy wins for Outstanding Host for a Reality or Competition Program.

RuPaul is the most commercially successful drag queen of all time, and in 2017, he was included in the annual Time 100 list of the most influential people in the world.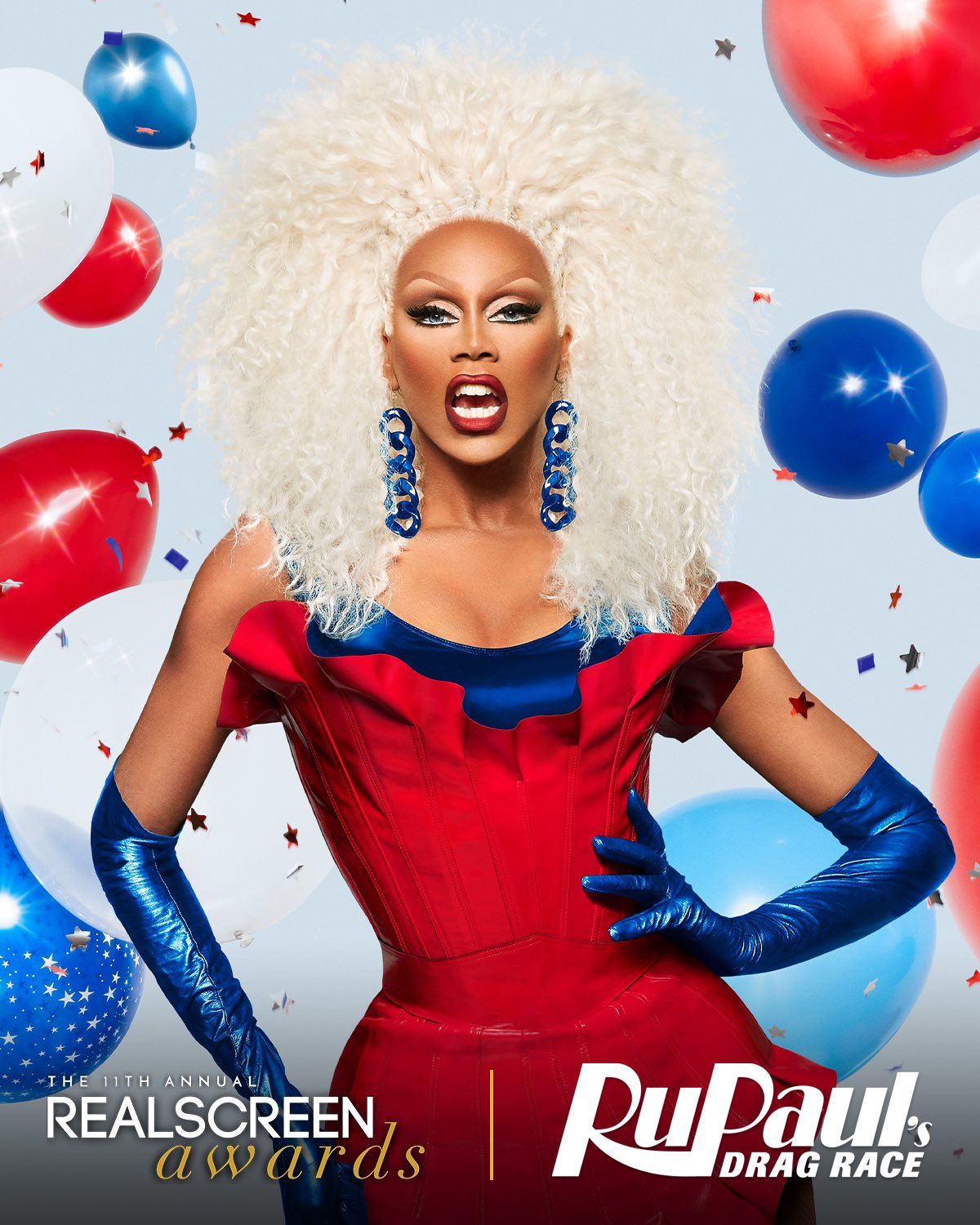 From Realscreen:
RuPaul was born and raised in San Diego, California and later moved to Atlanta, Georgia to study performing arts. He settled in New York City where he became a popular fixture on the nightclub scene. RuPaul achieved international fame with the release of the single, "Supermodel (You Better Work)", which was included on his debut album Supermodel of the World (1993).

In 1996, RuPaul landed a TV talk show on VH1, The RuPaul Show, taping 100 episodes with co-host, Michelle Visage, while simultaneously co-hosting a morning drive radio show on WKTU, also with Visage. Recently, RuPaul has also hosted a weekly podcast, called RuPaul: What's The Tee? with Visage.

RuPaul's Drag Race has produced 13 seasons to date and has inspired several spin-off series, including RuPaul's Drag Race: UK and RuPaul's Drag Race: All Stars. RuPaul was also featured as a host on the series Skin Wars: Fresh Paint, Good Work, Gay for Play Game Show Starring RuPaul, and as a judge for CBS's global competition series, The World's Best.

As an actor, RuPaul has appeared in more than 50 films and television shows both in and out of drag including Crooklyn (1994), The Brady Bunch Movie (1995), To Wong Foo, Thanks for Everything! Julie Newmar (1995), But I'm a Cheerleader (1999), the Comedy Central series Broad City (2017), Netflix originals Girlboss (2017) and Gracie & Frankie (2019), and the voice of Queen Chante in The Simpsons (2018). Most recently, RuPaul has teamed up with Michael Patrick King (Sex in the City, 2 Broke Girls) to produce the Netflix original comedy series, AJ & The Queen, in which RuPaul also stars.

As an author, RuPaul has published three books: GuRu (Harper Collins, 2018), Workin' It! RuPaul's Guide to Life, Liberty, and the Pursuit of Style (Harper Collins, 2010), and Lettin' It All Hang Out (Hyperion Books, 1995). As a recording artist, RuPaul has co-written and co-produced fifteen studio albums to date, including Foxy Lady (1996), Champion (2009), Glamazon (2011), Born Naked (2014), American (2017) and You're a Winner Baby (2020).

"As the host and executive producer of one of the most popular reality competition series on the air today, RuPaul's signature blend of inclusivity and entertainment has been hugely influential in unscripted programming in recent years," said Barry Walsh, editor and content director for Realscreen. "We are absolutely thrilled to be able to induct RuPaul into our Hall of Fame in January."