Trigger warning: descriptions of George Floyd's murder
A year ago today, George Floyd, a 46-year-old Black father, was killed in Minneapolis, Minnesota. A police officer with the Minneapolis Police Department knelt on Floyd's neck after he was already handcuffed and lying face down. Two police officers assisted in restraining Floyd, while another officer prevented bystanders from interfering with the arrest and intervening as events unfolded.
Floyd had pleaded about being unable to breathe prior to being on the ground, but after being restrained, he became more distressed and continued to cry out about breathing difficulties, the knee in his neck, and expressed the fear he was about to die and called for his mother. Several minutes passed Floyd stopped speaking. For a further two minutes, he lay motionless. Even though no pulse was found when urged to check the officer ignored the desperate pleas of onlookers. The officer refused to lift his knee until medics arrived on the scene and told him to.
The tragic murder of George Floyd ignited a movement that reverberated around the world that demanded for the equality and liberation for ALL Black people, divestment from the police and investment in Black communities, justice and police accountability with Black lives no longer being systematically targeted for demise.
People all around the country today are gathering to remember Floyd and those who have died at the hands of law enforcement.
Floyd's cousin, Tera Brown said, "As much as, you know, it's a loss for us, we do want to celebrate the life that he lived and focus on just making sure that we build on the legacy that we want to honor him with."
Brown is the director of the George Floyd Foundation, which creates social justice equality and equity opportunities in the areas of social justice education and advocacy, youth services and workforce development.
Brown said she wants police reform legislation to move forward to help others. She added that she knows this type of legislation takes time, but she believes it'll happen. "I just have so much guilt about, really, just not being there or not being able to save him. And so, that is why it's just so important to me that — we can't get him back, we know we'll never get him back — but we can do things as far as policy and legislation and getting those changes that will save lives, save the lives of others," she said.
Brown added that Floyd's 7-year-old daughter, Gianna, who said her "daddy changed the world," is doing well and that the family tries to "protect her as much as we can."
In March, the city of Minneapolis agreed to pay $27 million to settle a civil lawsuit from Floyd's family. The family will fund $500,000 from the settlement in grants for businesses and other organizations in the community where Floyd was killed by police.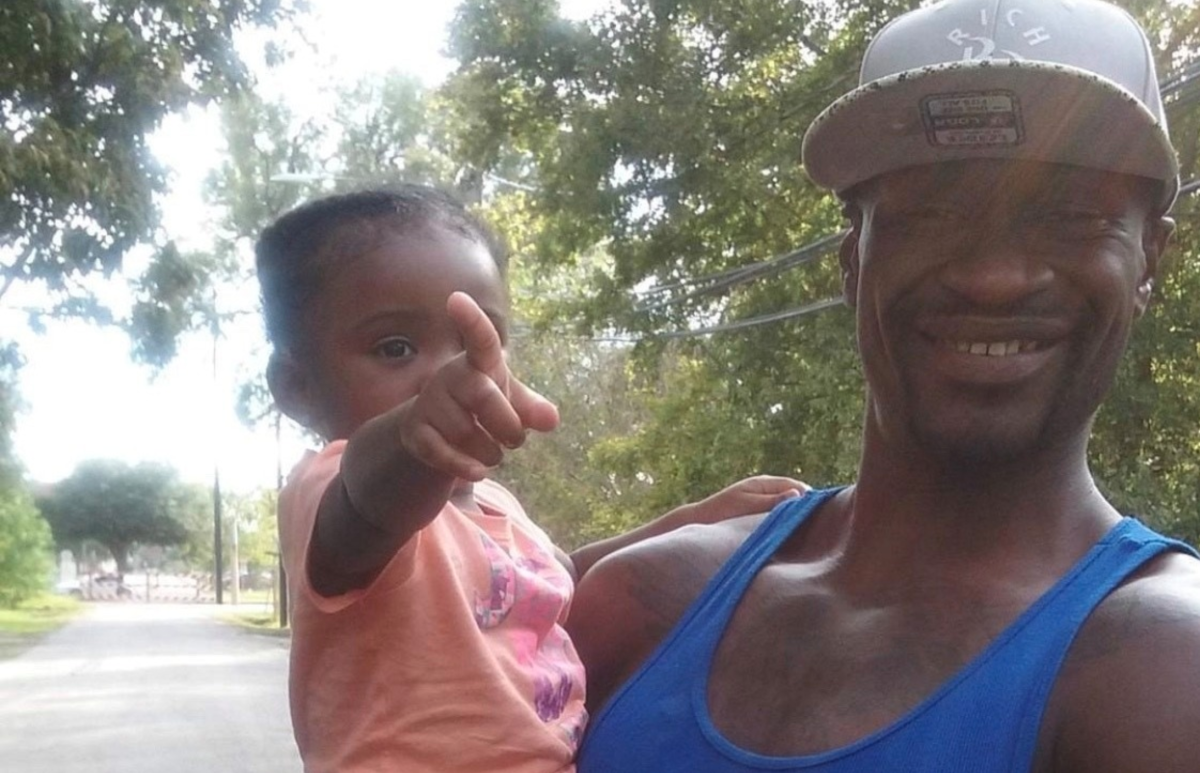 Bottom line, no settlement or verdict outcome will ever be considered justice. These are instances of accountability. Justice would mean George Floyd would be here. Justice would mean a system not rooted in white supremacy. It would be the end of state-sanctioned violence. It would be defunded police. It would be investments in Black communities.
George Floyd should be here.
We mourn as his family mourns and support them in finding solace — because like countless others, they have been put in a position that they did not deserve.
According to the Mapping Police Violence database, since Floyd's death exactly a year ago, police in the United States have killed at least 1,068 people across the country — an average of three killings every day. There is so much work still to be done.
But today and everyday, we must support the Floyd family, continue to work toward Black liberation — one where Black people across the diaspora thrive, experience joy, and are no longer defined by their struggles.
Support George Floyd's legacy through the George Floyd Foundation.
Check out Ways We Can All Help Victims' Families and Get Involved With Black Lives Matter Organizations here for an ongoing list of organizations to donate to, petitions to sign, and ways to further educate yourself.
Below are some additional useful comprehensive resources:
44 Mental Health Resources for Black People Trying to Survive in This Country
Comprehensive Directory with Mental Health Resources
List of Resources to Dismantle Racism
Support and Donate to Black Trans Women Through These Organizations
And lastly, keep saying his name.