America is showing its scars more clearly than ever with its problem of police brutality and structural racism. Across the country, police violence has disproportionately impacted Black Americans, and last week, protests demanding for justice have erupted in every state across the nation in response to the country's deeply rooted systemic racism as well as the recent murders of George Floyd, Breonna Taylor, and Tony McDade by U.S. police officers.
The fight is not over; it's only just begun. If you're thinking about heading to a protest near you, there are many factors to consider. One, protesting is a right of all Americans under the First Amendment. But before you head out, you should know that police officers across the country have acted with unnecessary force and are arresting people at peaceful protests, and you need to have a plan and be prepared in the event that this occurs.
There are also many ways you can contribute if you don't feel safe taking it to the streets or are unable to physically do so.
We've gathered up some tips on staying safe at a protest, as well as a list of items you may want to bring with you before you head out.
What to Bring
A backpack: There's a good chance that your protest will include a march, which may stretch for miles. You'll need something durable enough that allow you to be hands-free and carry your essential items. But be sure to avoid anything too bulky to avoid straining your back.
Water: It's almost summertime, and temperatures are climbing across the country. Carry drinking water so that you can stay hydrated and replenished as you are outside marching, chanting, and walking for miles. Water can also be used to clean wounds or flush the eyes of anyone who's been hit with tear gas, in the event that this happens.
A face mask: Ms. Coronavirus is still in the building, and it's easy to forget that we are still in a pandemic. It is necessary to take precautions and wear a face covering to avoid the spread of Covid-19. Face coverings can also protect your privacy from cameras and police surveillance.
A hat and/or sunglasses: Hats and sunglasses can also obscure your face from surveillance and protect your privacy, as mentioned above. Hats may also help hide your hair if it's dyed a distinctive color. Most protests happen during the daytime, so they can also help keep you protected from the sun and lessen the fatigue of being outside for long hours.
Snacks: Most likely, you'll be at a protest for several hours. Pack some nutritious snacks to keep yourself fueled for the long day. Granola bars, trail mix, and fruit are some great choices.
Suitable clothing: Wear plain, logoless layered clothing that won't set you apart from the crowd. It's recommended that you cover any tattoos.
Good walking shoes: This is an absolute must. Wear closed-toe shoes that are broken in and good for walking long distances.
Hand sanitizer: You never know what your hands may come into contact with, so keeping hand sanitizer on you is an essential.
Your ID: In the event that you get detained, not having your ID on you might keep you stuck for longer. Keep it with you in a safe place.
Cash: Bring cash if you do not want to leave a digital footprint, which can be traced back. Keep your bills in a secure place.
Other things you may want: In the event that tear gas is used, you should carry goggles and should avoid wearing contacts. Carry hair ties to keep your hair away from your face. A Sharpie to write emergency contacts down. Bandages or other first aid supplies. Ear plugs. Extra face masks. A card declaring necessary medical information that someone may need to know if you're unable to tell them yourself. Medications that need to be taken on a schedule (in a labeled prescription bottle if possible) with the understanding that you may be away from home much longer than anticipated.
Educate Yourself
If you are going to protest, you must educate yourself on what it is you're fighting for. We have several resources on how to educate yourself and ways you can contribute to the Black Lives Matter movement.
If you are a non-Black ally, it is important to keep in mind that you're showing up in solidarity for the Black community, and that you must listen. If you aren't comfortable with potentially physically intervening in events of injustice, shielding Black protesters from police violence, and listening instead of speaking, your efforts as an ally are likely better spent elsewhere.
Be Aware of Your Surroundings
It is important to know who is around you. In some states, cops are going undercover by wearing steel-toed boots, a colored armband, a hearing device, and showing outlines of handcuffs in their pocket. In contrast, some street medics are wearing a red cross on their clothes or backpacks to signify that they have first-aid supplies.
Know Your Rights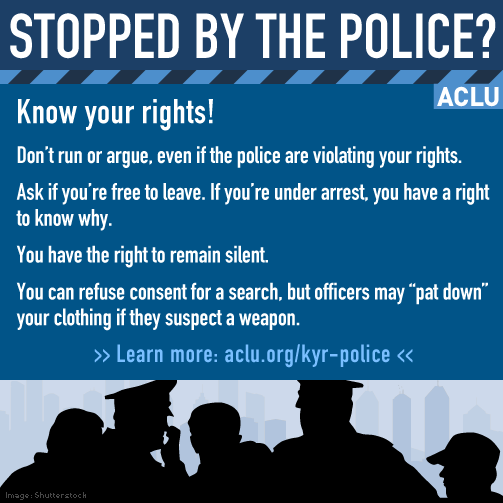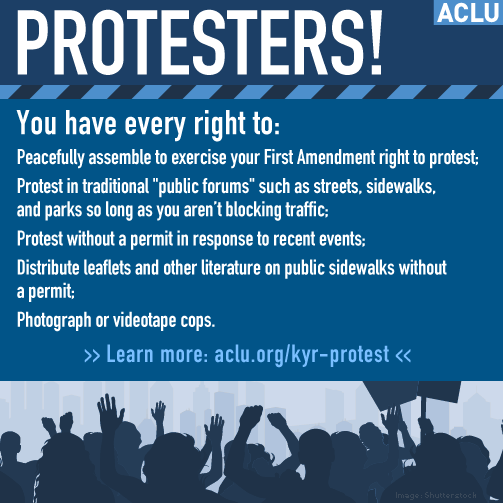 In the U.S., it's entirely within your rights to peacefully demonstrate in public. Below are some helpful tips from Amnesty International.
Freedom of Expression and Assembly: Everyone has the right to carry their opinion to the streets.
Protection of the Right to Freedom of Assembly: Law enforcement must facilitate and not restrict a peaceful public assembly.
Freedom from excessive use of force: In the policing of non-violent protests, police must avoid the use of force.
Right to Medical Assistance: If you are injured you have a right to medical assistance without delay.
Freedom from Arbitrary Arrest and Detention: If you are arrested you have a right to be told of the reason for your arrest, you also have the right promptly after your arrest to have access to a lawyer and to your family.
Right to Complain: If your rights have been violated you have a right to file a complaint and to be provided information on how to do so
Dealing with Teargas
Avoid use of oils and lotions because they can trap the chemicals and thereby prolong exposure
Gas masks provide the best facial protection, if properly fitted and sealed. Alternatively, goggles, respirators, or a wet bandana over the nose & mouth will help
Stay calm. Panicking increases the irritation. Breathe slowly and remember it is only temporary
Blow your nose, rinse your mouth, cough & spit. Try not to swallow
Wearing contacts: you must remove the lenses or get someone to remove them for you, with CLEAN, uncontaminated fingers. Destroy the lenses after exposure
DO NOT RUB IT IN
Use an eye flush using a solution of half liquid antacid and half water. This only applies to aluminum hydroxide or magnesium hydroxide
How to Prepare for Possible Arrest
Prepare yourself and your family in case you are arrested. Memorize the phone numbers of your family and your lawyer. Make emergency plans if you have children or take medication.
Your Rights
Say you wish to remain silent and ask for a lawyer immediately. Don't answer any questions or give any explanations or excuses. If you can't pay for a lawyer, you have the right to a free one. Don't say anything, sign anything or make any decisions without a lawyer.
You have the right to make a local phone call. The police cannot listen if you call a lawyer. They can and often will listen to a call made to anyone else.
What You Can Do if You Think You're Witnessing Police Abuse or Brutality
Stand at a safe distance and, if possible, use your phone to record video of what is happening. As long as you do not interfere with what the officers are doing and do not stand close enough to obstruct their movements, you have the right to observe and record events that are plainly visible in public spaces.
Do not try to hide the fact that you are recording. Police officers do not have a reasonable expectation of privacy when performing their jobs, but the people they are interacting with may have privacy rights that would require you to notify them of the recording. In many states (see here) you must affirmatively make people aware that you are recording them.
Police officers may not confiscate or demand to view your photographs or video without a warrant, and they may not delete your photographs or video under any circumstances. If an officer orders you to stop recording or orders you to hand over your phone, you should politely but firmly tell the officer that you do not consent to doing so, and remind the officer that taking photographs or video is your right under the First Amendment. Be aware that some officers may arrest you for refusing to comply even though their orders are illegal. The arrest would be unlawful, but you will need to weigh the personal risks of arrest (including the risk that officer may search you upon arrest) against the value of continuing to record.
Whether or not you are able to record everything, make sure to write down everything you remember, including officers' badge and patrol car numbers, which agency the officers were from, how many officers were present and what their names were, any use of weapons (including less-lethal weapons such as Tasers or batons), and any injuries suffered by the person stopped. If you are able to speak to the person stopped by police after the police leave, they may find your contact information helpful in case they decide to file a complaint or pursue a lawsuit against the officers.
Follow the National Lawyers Guild
For more information and tips about protesting, follow your local National Lawyers Guild (NLG) chapter. NLG is comprised of lawyers, law students, legal workers, and jailhouse lawyer members of the nation's oldest and largest progressive bar association—the first one in the U.S. to be racially integrated. They provide legal support for protestors who have been arrested.