Joe Fergus, 24, and Robert Brookes, 21, went to see a performance of The Rocky Horror Picture Show at the Storyhouse Theatre in Chester, England.
Outside the theater around half a dozen churchgoers from the Zion Tabernacle Protestant Evangelical Church held yellow placards with bible quotes and verses.
The protesters shouted at the couple,
"You're an abomination!"
But instead of shouting back, they just embraced and kissed there in front of them to the cheers of those watching –NOT the protestors.
Fergus told Pink News that the protesters had picketed the night before and when they reappeared, they decided to act.
"While having a drink prior to the show, I laughed and said to Rob: 'Wouldn't it be great if we didn't acknowledge them at all and just kissed?

When we arrived, there was lots of shouting between the protesters and audience members waiting outside the theatre. The problem with that is you can't fight hate with hate, which is why we decided to spread some love.
"We wanted to stand up for our rights and our community and I strongly encourage others to do the same."
I respect everyone is entitled to their opinion, however, I am also entitled to kiss my boyfriend wherever I want without judgment, and that's what we are fighting for."
But this isn't the first time the couple have spread the love. The religious group might have recognized Fergus and Brookes from Chester Pride last year.
Chester Pride re-posted the above photo yesterday on its Facebook page, and the comment section went crazy to support the couple.
One person wrote:
"This needs to go viral. This is iconic. All you need is love."
The theatre wrote on Twitter,
"To everyone coming to the Rocky Horror Show tonight and this week at Storyhouse. Storyhouse is and always will be a safe space. We celebrate and support LGBTQ+ communities–always.

Let's have a FABULOUS night & week. To those who are protesting: #LETSDOTHETIMEWARPAGAIN."
Sometimes a kiss is the most revolutionary thing.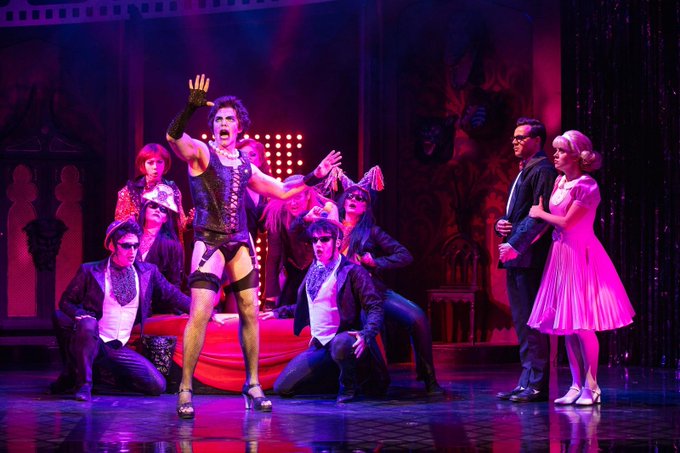 (Photos, Joe Fergus & Robert Brookes, Storyhouse Theater; via Pink News)