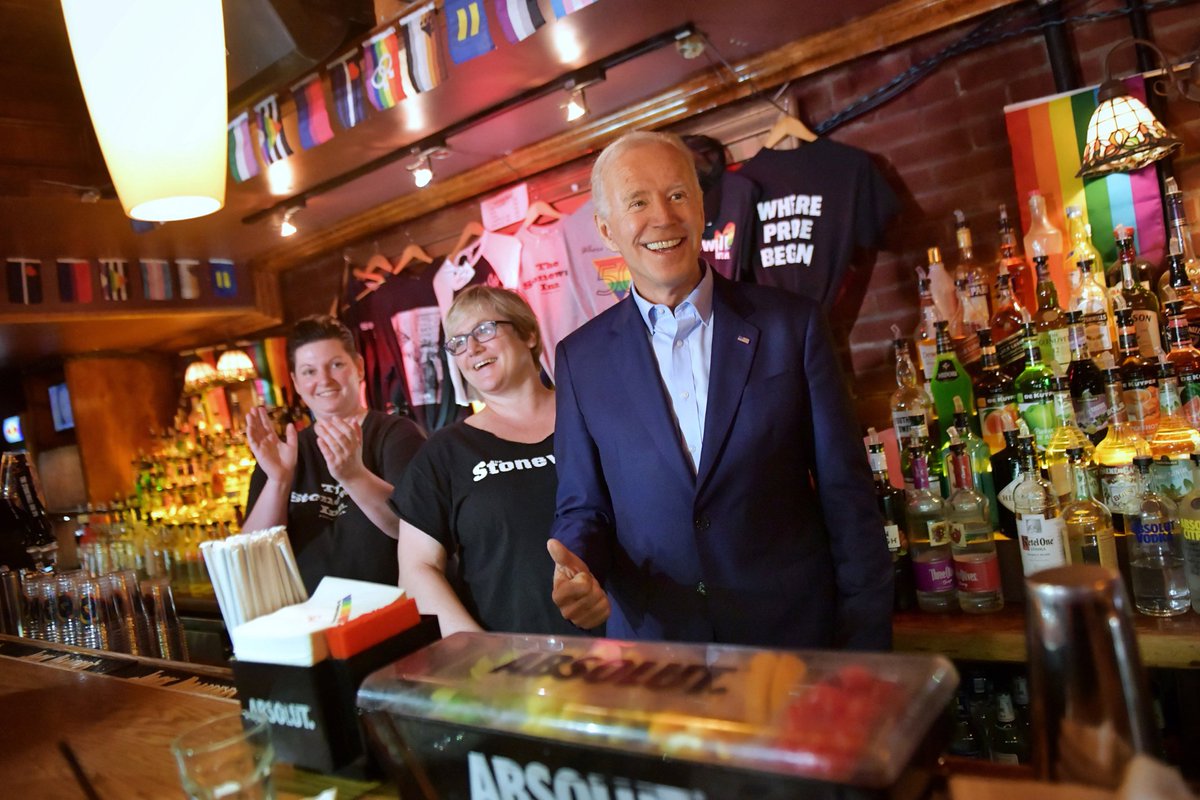 Joe Biden doesn't drink, but he spent yesterday afternoon behind the Stonewall Inn bar buying a round of beers with his credit card to cover the cost of the beers.
This came the same day that Trump kicked-off to his own presidential bid in Orlando, Florida, but you can be sure there was no pride flag waving there.
At Stonewall, against a backdrop of Pride flags, Biden and his wife, Jill Biden, passed by Stonewall after two-fund raisers for his presidential campaign earlier in the day in Manhattan.
Countless tweets show that Biden worked the room., shaking hands, taking selfies, telling stories, and even wrote a note to excuse a patron from class.
He repeatedly told the story of his father, decades ago, saying of a gay couple:
"Joey, it's simple. They love each other."
Following the visit, the 2020 front-runner tweeted:
"For all the hard-won progress, for as much as we can celebrate how much better things have gotten – the fight is not over."
Biden wasn't the only 2020 Dem candidate to visit the historic bar recently, fellow candidate Beto O'Rourke showed his face there just last week.
Stopped by @TheStonewallNYC to celebrate #PrideMonth & #WorldPride where the movement began 50 years ago. pic.twitter.com/2Z4PyfzyOq

— Joe Biden (@JoeBiden) June 18, 2019
For all the hard-won progress, for as much as we can celebrate how much better things have gotten — this fight is not over.

We have to come together to stand up to abuses of power, ensure that everyone is treated with dignity, and fight for full equality. pic.twitter.com/aCoWE0hggC

— Joe Biden (@JoeBiden) June 18, 2019
After his second fundraiser of the day today in NYC, @JoeBiden stopped by the historic Stonewall Inn, a campaign aide confirms. Was spotted inside taking photos with patrons. pic.twitter.com/L3idgETB2P

— Garrett Haake (@GarrettHaake) June 18, 2019
(Photo, Twitter, Facebook; via Gay Star News)