Travis Salway, an epidemiologist, discovered that in Canada, suicide had surpassed HIV as the leading cause of death among gay and bisexual men.
Salway told HuffPost,
"I had been working in HIV prevention for years, motivated by the fact that new HIV infections weren't coming down among gay men. One of the theories we were exploring was that social isolation, depression, drug addiction and other social factors were leading to sexual behavior associated with HIV transmission. These same factors, of course, can also lead someone to suicide.

I pulled the suicide statistics among gay and bisexual men and was really shocked at how high they were. Though HIV mortality rates had been declining for years, suicide rates remained stable or even increased. So we think that the mortality lines have crossed for gay and bisexual men, with suicide likely having surpassed HIV as a leading cause of death."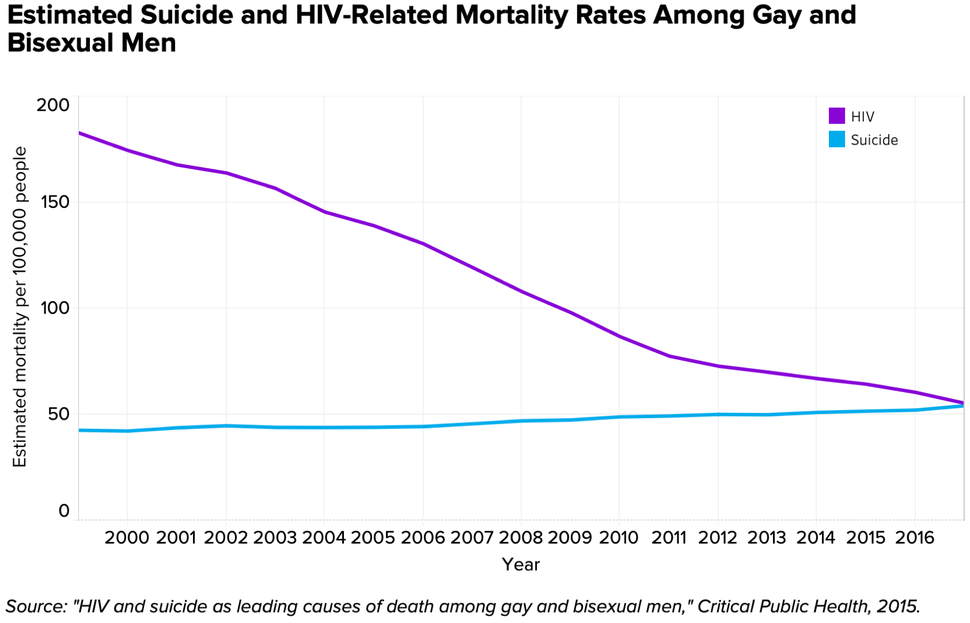 "The idea is that sexual minorities accumulate stressors in multiple forms. That includes overt things like beatings and name-calling, but also quieter things like avoiding a family gathering because you don't want to have an awkward conversation with your uncle. Even if no one ever says it, you get the message that you're wrong.

Minority stress continues even after you've left the closet. All of us, all the time, have to decide when to come out. Even if you're in a big city, Castro-style environment where everyone is all 'yay gay,' there's still cognitive stress every time you make that decision.

Over time, minority stress leads to problems like rumination — thinking negative thoughts over and over again. It can lead to a sense of hopelessness. Some people cope by self-medicating with drugs or alcohol. Some withdraw in social situations and use substances to connect."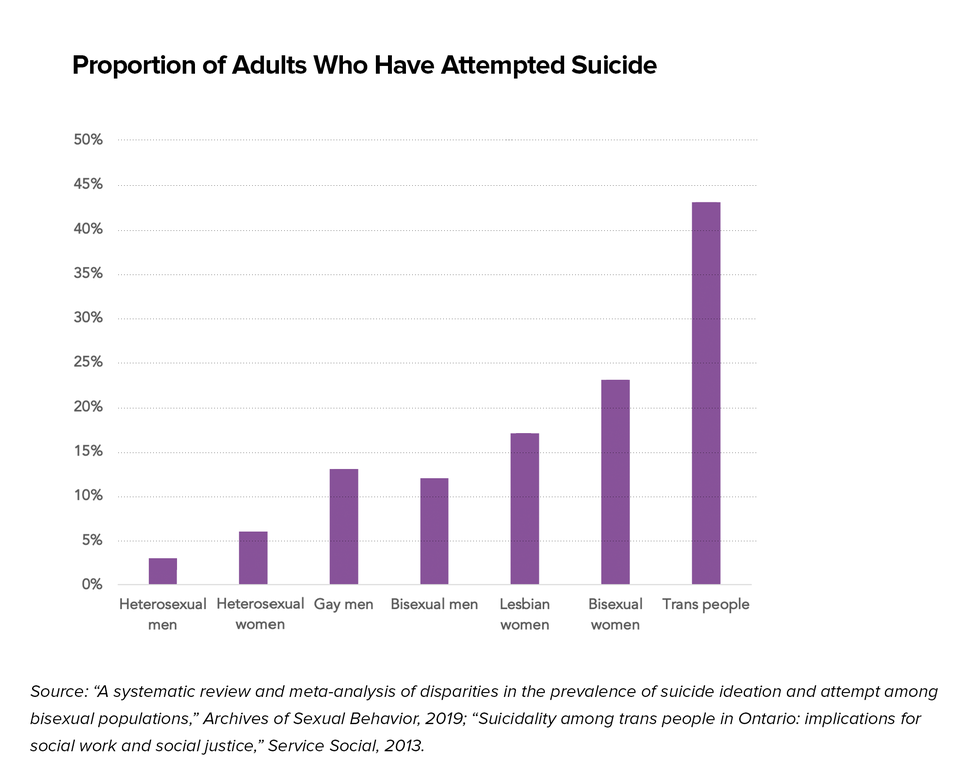 The next wave of gay rights needs to be about building meaningful, lasting social supports that withstand the three major threats we face.
#1: The loss of the 'gayborhood.' Many of the traditional gathering spots have already moved online. But, more importantly, the cities with the greatest concentrations of gay people are becoming unaffordable. Young gay people are being forced to move way out into the suburbs or to smaller cities where there's fewer services. We need to learn how to reach those populations.

#2: Aging. Forming a family is one of the most powerful protections against suicide for straight people. Queer people are less able to do that. Loneliness and social isolation are huge problems in our community, and they seem to get worse as we age.

#3: Stratification within our own population. What does it mean to offer services to a community that contains hedge fund managers and homeless teenagers? The disparities in needs within the LGBTQ community are profound, and we need specific supports for the groups at the highest risk… where do our queer women go when they are facing a mental health crisis? We need to look at a much broader range of needs and offer brick-and-mortar spaces to form community.
If you or someone you know needs help, call 1-800-273-8255 for the National Suicide Prevention Lifeline. You can also text HOME to 741-741 for free, 24-hour support from the Crisis Text Line. Outside of the U.S., please visit the International Association for Suicide Prevention for a database of resources.
(Photo, screen grab; via HuffPost)