Tested by drag queens, ready for the world! Order HOUSE OF LOVE today! With delicious canned cocktails and mouth-watering mocktails, Charisma, Uniqueness, Nerve, and Talent never tasted so good. Delivered right to your door!
HOUSE OF LOVE is the exclusive drink of RuPaul's Drag Race All Stars Season 7. That's right, henny!
Available in 4 delicious cocktails and 2 mouth-watering mocktails! Viewing Party packs are also available including The All Star, The Squirrel Friend, Variety Box, and the Hall of Fame.

POMEGRANATE LIME VODKA
[Pomegranate + Lime + Vodka]

A fresh twist on a classic cocktail. An explosion of flavor, bursting with charisma. Turns out a twist of tangy lime is an antioxidant-rich pomegranate juice's best friend. And it all comes together when we add a generous pour of premium vodka. Pairs well with savory foods, best friends, and 3-day weekends.



TANGERINE MARGARITA
[Tangerine + Mexican Tequila]

It do take nerve to create a tangerine and tequila cocktail that tastes this good. Our mixologists worked night and day (but mostly nights) to create a tangy-sweet treat that you can share with pride. Pairs well with guac and chips, laughter, and beautiful strangers.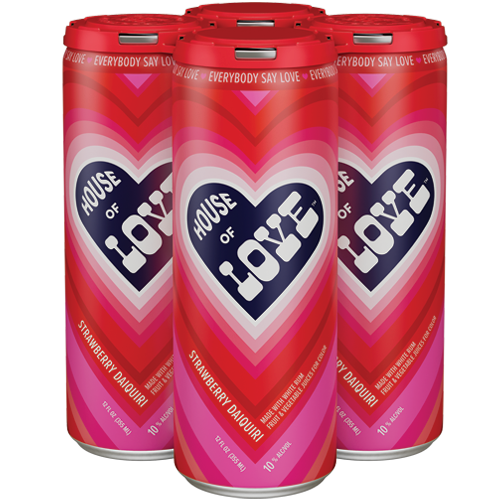 STRAWBERRY DAIQUIRI
[Strawberry + White Rum]

This perfect cocktail is a testament to the talent of our mixologists. But don't take our word for it. Pop open a can and taste for yourself. Smooth and sweet and oh-so-juicy. Pairs well with all guilty pleasures, food and otherwise.
 

WATERMELON VODKA
[Watermelon + Lemon Zest + Vodka]

Summer never tasted so good. A unique, fresh flavor that satisfies all year round. Juicy, ripe watermelon infused with the perfect amount of premium vodka. Pairs well with sun, fun, and thirsty bitches.
Category is… Mocktails!



COLADA 
[Coconut + Pineapple + Sparkling Water]

This is the #1 mocktail to take with you on a deserted island. Get all the tropical flavor of ripe, juicy pineapple blended with freshly cracked coconut… without the fuss and muss of climbing palm trees and brandishing a machete. Enjoy alone as a delicious mocktail or use it as a mouthwatering mixer. Pairs well with crystal blue water, white sand beaches, and well-oiled bodies.


GINGER MULE
[Ginger + Lime + Sparkling Water]

Tens, tens, tens across the board! We've mixed ourselves a winner, baby. The perfect blend of candied ginger and fresh tart lime makes for a rich and refreshing mocktail like no other. Enjoy alone as a delicious mocktail or use it as a mouthwatering mixer. Pairs well with a winning attitude and an uncanny ability to slay. 
Don't miss out on tonight's All Stars 7 viewing parties at Micky's and Roscoes!