April 19, 1930– Dick Sargent
Be warned: This is a #BornThisDay feature about Dicks.
Looking back now, I realize that the beguiling sitcom Bewitched (1964-1972) was actually a powerful, satirical allegory about the prejudice against LGBTQ people. Let's review: Elizabeth Mongomery played Samantha, a powerful witch with many talents, lives as a mortal, hiding her true-self from a society that could never understand or accept her. She was in the broom-closet. Agnes Moorehead had the role of Endora, Samantha's oddly single, meddling mother who hates Samantha's father played by a very fey Maurice Evans. Endora lectures Samantha about hiding who she really is just because she might be rejected by society. Each episode was another zany example of the perils of not coming out of the closet. Plus, the series had the gayest cast ever: Dick Sargent, Moorehead, Evans, and, of course, Paul Lynde as Uncle Arthur… they all were gay. Even the show's lead, Montgomery, was an avid, enthusiastic activist for Gay Rights.
Richard Cox's mother was silent film actor Ruth Powell, his father, Elmer Cox, was the business manager to film star Douglas Fairbanks and director Erich Von Stroheim.
Cox studied theatre at Stanford University. Back in Hollywood, he received a small role in Prisoner Of War (1954), starring Ronald Reagan. I suppose it was just too much of a burden to be billed as Dick Cox, and when he joined the Screen Actors Guild he changed his last name to Sargent.
As Dick Sargent, he found steady work doing guest stints in 1950s and 1960s television series including Gunsmoke, Wagon Train, and I Dream Of Jeannie. He had leading roles in One Happy Family (1961) and Broadside (1964-66). Sargent also found work doing supporting roles in the films: Operation Petticoat (1959), That Touch Of Mink (1962), and an Elvis Presley project, Live A Little, Love A Little (1968).
I have read that Sargent and talented, funny Tammy Grimes auditioned for the original roles of Darrin and Samantha Stephens during the casting of the pilot of Bewitched. Sargent became unavailable because he was under contract for Broadside. Ironically, he did go on to play Grimes's brother on the short lived series The Tammy Grimes Show (1966-67) where the lead character's name was Tamantha.
Bewitched, as we all know, went into production with Montgomery and the other Dick, Dick York as Mr. and Mrs. Stephens. After Season Five, York left Bewitched because of a back injury and a dependency on painkillers. To prepare viewers for the switch to a new Darrin in Season Six, ABC ran all of the shows in which Dick York did not appear during the summer 1969. Are you keeping your Dicks straight?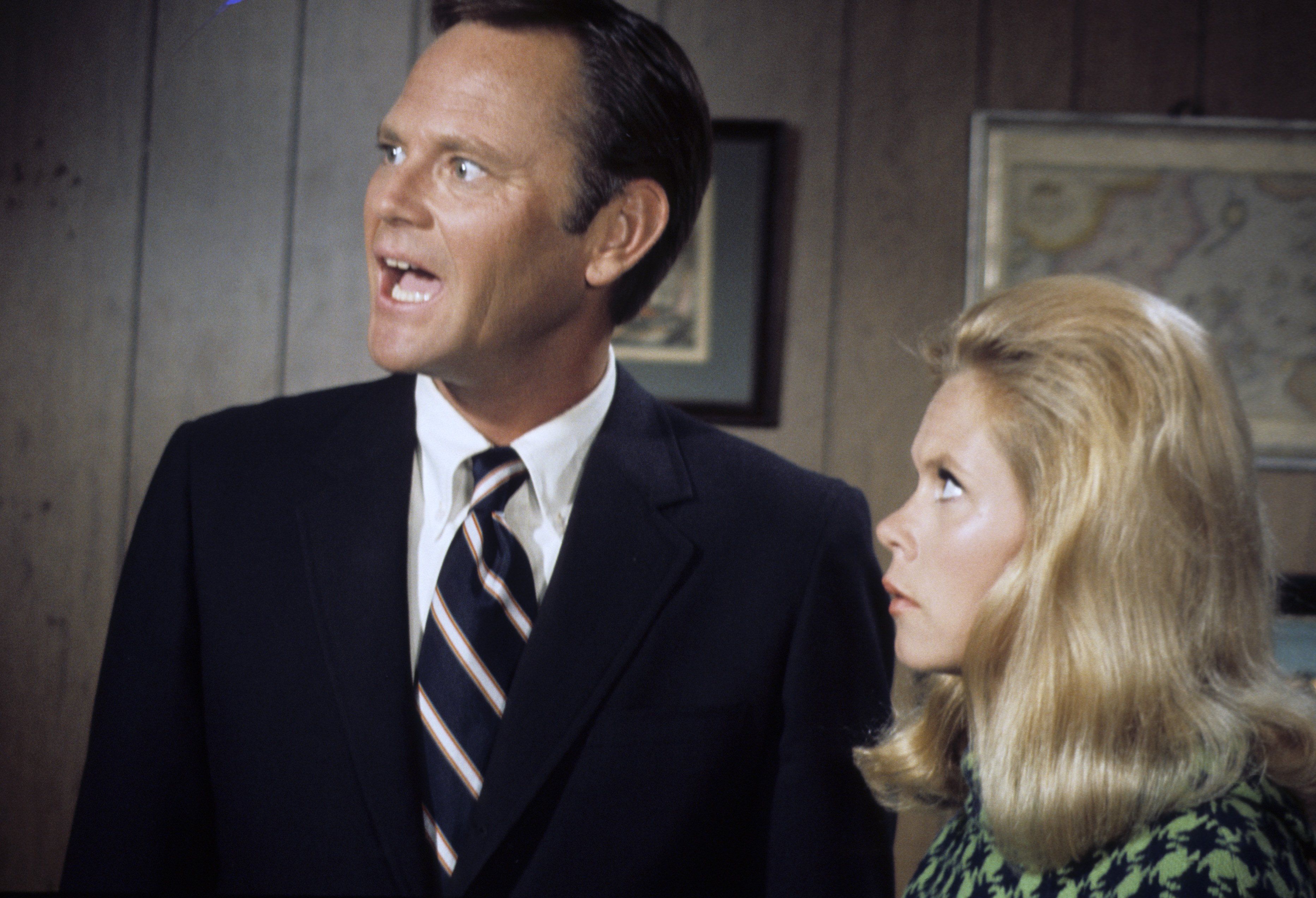 Sargent did not have an easy time stepping into the role in this top-rated show with its popular leading man. If you watch, and I have, he often appears nervous and uncomfortable in his first season. The role of Darrin was never written differently, but the two actors simply had a different interpretation of the character. Both Sargent and York said that the producers left little room for improvisation and that the actors on Bewitched always stuck with the script word-for-word. Sargent's Darrin was more laid back and slier than York's.
Elizabeth Montgomery:
By the time Dick Sargent came on the show, Darrin and Samantha's relationship was five years old… Darrin's objections to witchcraft would have mellowed anyway, whether it was Dick Sargent or Dick York.
York had only praise for the continuation of the show and for Sargent's portrayal of Darrin. Sargent:
Occasionally, I wonder about Bewitched. But I guess we all wonder about something or other. Most working actors don't get a role where they become household faces. They may not know my name, I may be Darrin to people out there, but if people see you and smile at you and act like you're an old friend, I think that's a pretty swell accomplishment.
After Bewitched ended its long run, Sargent went on to guest-star in many popular 1970s and 1980s television series that we all loved and remember: Taxi, Alice, Charlie's Angels, Fantasy Island, The Dukes Of Hazzard, The Waltons, The Love Boat, Three's Company, Murder, She Wrote, and L.A. Law. Sargent did a lot of voice-over work and returned to performing live theater when he had the chance.
In 1989, Sargent was diagnosed with that damn cancer. After a long and successful acting career, and with nothing to lose, Sargent came out of the closet in 1990. He asked his old friend Elizabeth Montgomery to join him as Grand Marshall of the 1992 LA Gay Pride Parade. Montgomery:
In or out of the closet, I love him. He's a super guy and a good friend. I'm happy for him and proud of him.
During those Bewitched years, Sargent's official bio made mention of an ex-wife to avoid speculation about his gayness. He even appeared as a couple with gay actor Fannie Flagg on the game show Tattletales. But in truth, Sargent shared his life and his home with his partner of 20+ years, Albert Williams, until Williams' death in 1990.
Once he kicked down that closet door, Sargent gave plenty of support to Gay Rights issues, and he was an advocate of the Special Olympics, not to be confused with the Gay Games. In 1990, so few actors were open about being gay that Sargent's coming out made a significant impact. Overnight he went from playing roles to being a role model.
Sargent:

When I was growing up there were no role models. We had nobody. I represent that square comedy image which I don't think anyone associates with gay. I needed to show people that we're just people and that we're everywhere in their lives whether they know it or not, so learn to accept us. People can look at me and think, 'My God, they look like my mother, or my father, or my son, or whatever'.
Sargent took his final bow, gone from prostate cancer, in 1994, less than a year before Elizabeth Montgomery was taken by colon cancer. He was 64-years-old and Montgomery was 62-years-old when they left us.
I think people will always want something to hate. I think that might be around until we're evolved, which will be several thousand years. But I think because of AIDS and the publicity about gays in general, that people are more understanding and accepting than they've ever been. I'm not patting myself on the back, but if more people did what I did…it's a matter of 'Yes, I'm gay…now let's get on with our lives'. That's not what I'm alive for, that's not what any of us are alive for. No one is alive to be heterosexuals and have babies or anything else that's taught us all our lives. We're all just people who deserve the respect that everyone else gets.