There's never been a better time to settle down and watch a meaningful documentary than right now. You never know; sometimes one single documentary can completely flip your worldview. Since we're all looking for something new and exciting to watch, check out World of Wonder's 17 must-see documentary titles currently available on WOW Presents Plus, YouTube, and Netflix!
When The Beat Drops
Knowing your queer history is essential, and the award-winning When The Beat Drops offers an immersive deep-dive inside the growing culture of bucking—an energetic, hyper-athletic, dance phenomenon cultivated by queer people of color in the Deep South.
Stonewall Outloud
Few personal accounts or archival material from the Stonewall riots actually exist. In Stonewall Outloud, World of Wonder weaves together a new, fresh account of those fateful nights through rare recordings unearthed from the archives of StoryCorps, featuring people who were there as the uprising began 50 years ago. New faces bring the voices of the past to life as today's top LBGTQ talent honor the significance of this profound moment in the story of gay rights in America.
Out of Iraq
How far would you go to be with the love of your life? Out of Iraq tells the story of two Iraqi men, Nayyef and Btoo. In 2003, in the midst of war, in a country where homosexuality is banned, they meet by chance and fall in love. Nayyef, a translator for the U.S. military, and Btoo, a soldier in the Iraqi army, face persecution—and possibly death—if they stay in their homeland. After obtaining a visa, Nayyef leaves his love behind, settling in Seattle with a determination to one day reunite with Btoo in a place where they can express their love freely and without fear.
Party Monster Shockumentary
Party Monster tells the story of the rise and fall of Michael Alig, a kid from middle America who aspired to take the place of Andy Warhol. Michael quickly rose to become the biggest party promoter in New York and King of the so-called Club Kids. But after spiralling into drug addiction, Michael brutally murdered his roommate Angel Melendez.
Becoming Chaz
Becoming Chaz is the story of Chaz Bono's transition, a journey of identity and self-discovery that has lasted most of his life. Growing up, he was a shy person who never felt comfortable in the spotlight as the "daughter" of Sonny and Cher. Something was missing. Deciding there was no choice but to transition in public, Chaz decided that he would make this film so others could learn from his experience.
Died on the 4th of July
When New York City's dilapidated downtown was starting to wake up and smell the cocaine, the South Carolina expatriate, Nelson Sullivan, had already quit his music store job, moved into an old building in the Meatpacking District, and begun videotaping 24/7 what would become the city's most decadent decade – the 1980s.
With his old-school camcorder strapped to his shoulder like a third arm, Nelson maneuvered through streets and passed doormen, getting up close and personal with the big and small stars of the new scene, all the while providing a continuous chatty narration in his southern drawl, y'all.
He was always welcome, whether it was backstage with the Pyramid drag queens, at Limelight with the Club Kids, or visiting Sylvia Miles in her kitchen. Over the course of his short life (after making an eerily prophetic tape sitting by the Hudson River on July 3, 1989, he died suddenly of a heart attack at age 41 the next day), he had amassed nearly 1,500 hours of tape, the footage including the likes of everyone from Andy Warhol to Keith Haring to John Sex to Cookie Mueller to Deee-Lite to a not-yet-famous RuPaul (always a delight!) to drag queen Christina and other denizens of the Chelsea Hotel.
World of Wonder's Fenton Bailey and Randy Barbato have sifted and sorted through the hundreds of hours of Nelson's tapes and edited together the rarely seen highlights of what turned out to be important sociological documentation in Died on the 4th of July. Who knew?
The Last Beekeeper
From a distance – beekeeping has looked the same for hundreds of years, and serves as an example of a harmonious relationship between man and nature. As one of the beekeepers in The Last Beekeeper puts it: "bees are here to serve and to help. They make enough honey for themselves and everyone else too." The film begins to unravel the mystery of the disappearing bees, this calm begins to give way to a mechanical eeriness. The trucks criss crossing the highway, the mechanization of honey and beekeeping, and the changing nature of agriculture are all reflected in a jarring editing style, soundtrack, and shot choices as the film progresses.
LA Stories
It's the '90s in LA Stories, and World of Wonder gives cameras to ten Los Angelinos–including gang leaders and cops–to make video diaries about their lives at a pressing time in history.
Miss Navajo
For more than 50 years, Navajo people have gathered in the capital of the Navajo Nation to witness the Miss Navajo Nation beauty pageant. Miss Navajo follows 21-year-old Crystal Frazier's quest for the Miss Navajo crown, and explores the important role of women in Dine culture. Featuring personal stories of past winners, the film follows current contestants competing and showcasing their skills in dance, music, and sheep slaughtering.
101 Rent Boys
101 Rent Boys is a documentary that looks at the boys who work the Santa Monica strip. Even though we may not have purchased sex or sold our bodies, the world's oldest profession of sex work has a certain mystique that holds all of us in thrall. Not in the usual tone of moral indignation, but in a forthright and straightforward way. The film is a powerful look at the lives of men who sell their bodies to other men. It genuinely features 101 different rent boys–some extensively, some in shorter soundbites. The interviews are grouped to cover certain themes; such as their first trick, or the reason that they began to work as a rent boy.
P.S. May not be appropriate for all ages. Viewer discretion advised!
The Last 48 Hours of Kurt Cobain
The week before Kurt Cobain was found dead from a single gunshot, he went missing. His whereabouts for that week has remained a mystery until now, in The Last 48 Hours of Kurt Cobain. For the first time, the story of what happened to him can now be told, using the testimony of people who knew him, the witnesses who saw him in that last week and the ordinary people who found themselves written into his story that as one puts it: "would have been a keystone cops comedy were it not to have ended in such tragedy."
Grab
For over 300 years, the Laguna Pueblos have celebrated the feast days of the Catholic saints by throwing grocery items from their rooftops. Historically, the Lagunas are intensely private. In Grab, this is the first time that cameras have been welcomed to film this annual summer event.
Lesbians OLÉ
In Lesbians OLÉ, we join the winner of a National Lesbian Beauty Contest and her pals, a group of 40 other lesbians, on a holiday in Spain. What will the locals think as their theme parks, beaches, and bars are invaded by these cool lesbians who just want to have fun?
P.S. May not be appropriate for all ages. Viewer discretion advised!
School's Out
In School's Out, we take a look into Walt Whitman High School in Dallas, Texas. At Walt Whitman, lesbian and gay students from around the South are welcome to move in with host families and attend a controversial high school specifically set up for them. The film follows the lives of eight students attending Walt Whitman during the 2001-2002 academic year. These students explain their thoughts on relationships, promiscuity, infidelity, gender-bending, and homophobia—all the while articulating their complicated ideas about being young, gay, and marginalized in contemporary American society.
Stanley Kubrick's Boxes
Stanley Kubrick's Boxes is an authored film by Jon Ronson, exploring the hundreds of boxes the legendary film director Stanley Kubrick collected during his decades at Childwick Manor in Hertfordshire.
The film asks the question: is it possible to get to understand the man and his extraordinary working methods by looking through the things he left behind in boxes?
This is a biography of a remarkably talented man as seen though his archive. Stanley Kubrick's films were landmark events–majestic, memorable and richly researched. But, as the years went by, the time between films grew longer and longer, and less and less was seen of the director. What on earth was he doing?
Susanne Bartsch: On Top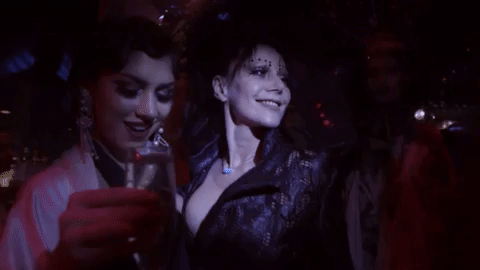 Susanne Bartsch: On Top is an intimate immersion into the world of New York City nightlife and fashion icon Susanne Bartsch from her early days in London, on to New York in the '80s and '90s when she organized the first Love Ball (which raised over a million dollars for AIDS research), to juggling a career and motherhood, right up to today where she continues to reign supreme over her global nightlife empire. You'll see plenty of familiar faces in this documentary, including Aquaria and Amanda Lepore. The film was written and directed by filmmaking duo Anthony&Alex, was co-executive produced by WOW's Fenton Bailey, Randy Barbato and RuPaul, alongside producers Michael Beach Nichols, and Christopher K. Walker.
Trixie Mattel: Moving Parts
Trixie Mattel: Moving Parts is an intimate portrait of RuPaul's Drag Race alumnus Trixie Mattel. The film sheds light on Trixie's personal relationship with the art of drag and her various professional endeavours.